PRODUCTS

LED FLASHING LIGHTS
A bright flashing light unit ideal fire firefighters operating in low visibility conditions including interior and roof operations. Also great for fire police and police officers directing or working in traffic.

Other applications include child safety, joggers/runners/walkers, recreation, camping - even attach to your dogs collar while walking at night.
GLOVE STRAPS

YELLOW GLOVE STRAP is constructed of poly-nylon


BLACK GLOVE STRAP is constructed of Kevlar
APPARATUS BRUSH

One of our newest products, this apparatus brush extends from 4-feet to 8-feet with our twist lock pole system and celtex grips.

HAND BRUSH
Lightweight nylon wheel brush
CABLE CUTTERS
Model #CC-10
The baby cable cutter, 10" long, up to 7/8" diameter capacity. Great for battery terminals and small minor cuts.

CABLE CUTTERS
Model #CC-28
The cable or wire rope cutter, standard 28" handle with our celtex grips added for extended grip. Handle may be shortnened upon request. 1-1/4" maximum jaw capacity.
UNLIMITED FOLDING SPANNER

The all new, compact, adjustable universal wrench with finger grips and engraved no slip handle. Will fit pin or rocker lug coupling. No sharp protrusions to cut or tear firemen's pockets.

Special Alloy... SUPER STRENGTH

WINDOW PUNCH

Brass window punch with Ring... Simple, Fast and Safe. Press point in corner of window until spring releases. Point will break glass and you can quickly gain access into the vehicle. Adjustable spring force for light or heavy loading. Double spring loaded barrel harden tip. Model #SP-1

COLLAPSIBLE RESCUE SHOVEL

The C.R.S. tool is the tool of Desert Storm. The most wanted and useful tool in the Oklahoma City Bombing.

Use as a shovel, hoe, axe saw, or piercing tool. "D" handle compliments the unit.

PARADE AXE

2 1/2 pounds ... made of light weight aluminum. Polished to a high luster. Hickory handle.
* Not For Cutting *

HYDRANT WRENCH

MAN HOLE COVER HOOK
FOR FURTHER INFORMATION, CALL US AT (732) 280-7737
HOME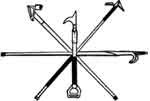 © 2003 Fire Hooks Unlimited
All Rights Reserved